I have a 2004 Buick Regal LS with 194k. I haven't had any major issues with it, but tonight I was driving and, randomly, the car started kind of bucking and jolting forward upon accelerating. I was almost to my location so, when I got there, I turned it off for about 10 minutes.
It started up fine, but I noticed the "trac off" light came on (it would not turn off when I tried pushed the button…I thought it had possibly gotten pressed accidentally by someone getting out of the car).
At first the car was not doing the jolting thing, but about 5 minutes into the drive it started again. The "check engine" and "service vehicle soon" lights also came on. The ABS light has been on for a long time which the mechanic couldn't figure out. I don't know if it's related or not. I can't run it on the scanner until the AM, but any suggestions as to what the problem could be would be GREATLY appreciated!
The jolting you describe that your Buick is doing is caused by the transmission. It is also known as bucking or lurching.
Most likely this is caused because the traction light is on. That system works in conjunction with the ABS brakes. This would also turn on the service vehicle light.
When the computer sees a problem in the traction control it cannot make the shifting patterns as well as it would like to, so it defaults to a different pattern. Usually the shifts will be late and hard. Sometimes it will bang into each gear.
The ABS system is going to have to be diagnosed and repaired, then the codes cleared to get the car back to normal. Without knowing what codes are stored in the ABS computer, I cannot really guess what the problem is.
Common causes for this warning light are a bad front wheel speed sensor. The sensor is part of the front hub, also called the wheel bearing.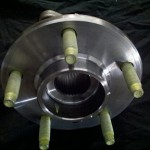 These are common to cause the ABS and traction warnings. This in turn will cause the transmission to shift bad. If you could give us the code stored in the computer I am sure we can give you a better idea or what may be wrong with your Buick.
Just reply and we can get a better idea of what is wrong with your car.
---
Leave comments below or see these