A/c compressor kicks on when ac is turned on, but no cold air comes out of the vents. You can change which vents the air comes out of. The ac is fully charged. When heat is on it only blows hot and can't change to cooler heat. The vent output speeds can be changed. Any Ideas?
You have a faulty temperature control actuator. There is a door inside the heater case that can be switched from cool to hot by way of an actuator.
Usually over time the actuators will wear out or short out internally and not be able to move the door when you change the temperature on the dash. To replace the actuator you will need to partially remove the dash and associated components.
The parts department at your local GM dealer can show you a picture to point out exactly which actuator you need to change, since there are about 3-4 different ones on the heater case.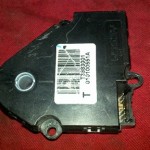 2000 Chevy Avalanche Blows Warm Air
---
Hi, I own a 2002 Chevy Avalanche, why does my air is not stay cool when I stop, say, at a stop light or something, but, as soon as I start rolling again it kicks in and woks fine.
ProTech:
There can be a couple different things that cause the situation you are experiencing. First of, and most common, would be a lack of refrigerant in the system. This can be due to a leak, or possibly it wasn't serviced properly. When there isn't enough refrigerant in the system, it will blow cold while you drive, but get warmer as you are stopped.
Also, there can be other causes. A restriction somewhere in the A/C system can do this too. Something such as a clogged orifice tube, or a compressor that is not functioning correctly either. It only happens when its hot outside
Yes, that's how it would be with a problem like that. You should really take your Avalanche into a shop or the dealer and get the A/C system checked. A technician can look at the readings on the gauges he puts on the system and usually tell right away what the problem is.
thank you!!
You're welcome! Have a great night.
---
Leave comments below or see these