2009 Chevrolet Impala won't seem to have any pick up says reduced engine power on dash.
Have you noticed if the check engine light is on as well the 'reduced engine power' message on the driver information center?
Yes it is on all the time but was on before I have this problem.
Well you may have more than one problem, but we'll start with the hesitation and reduced power message issue first. Usually on your style of vehicle there are only two causes for that message to appear on the dash. Either you have a throttle body problem, or a problem with the accelerator pedal which also has a position sensor built into it.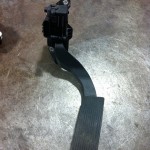 How do I fix this?
The first thing really that needs to be done is to have the car scanned for trouble codes. This will help explain why the check engine light is coming on, as well as why the reduced power message appears. You will either have codes stored for the electronic throttle body assembly, or the accelerator pedal position sensor which is part of the pedal assembly. since you mention the light was on before this problem, you may as well have other codes stored that didn't affect the driving of the car. These could be anything from emission control problems or even just a glitch in the system. Diagnosis needs a starting place, and in your case it needs to be done by retrieving the codes from the computer.
Can I have someplace do that for free?
Well there are some auto store chains that will scan a car for free, but sometimes they don't have the most up to date equipment or knowledge. At least you would know the actual codes in the system, which would be a starting point. You may also want to visit a local GM dealer, as it's possible some of the work your car needs may be under the current powertrain warranty since you have a 2009 model. Assuming you're not over 100,000 miles yet. I can tell you this for sure, a throttle body would be a covered repair if that's what you need done, but if you need an accelerator pedal that is not covered unless you are still under the 3 year/36,000 factory bumper warranty.
Oh wow thanks for that info! That would be great to get it fixed under waranty.
You're welcome. It's always best to check with your dealer for warranty status, mileage on the car, what is and isn't covered.
I'll get it checked thanks again.
---
Leave comments below or see these