So, a day or two ago we got our first Chevrolet Volt electric car at the dealership. With it, came much attention from everyone at the dealership, as well as some enthusiastic customers. This Volt was basically a demo car, which was not to be sold, but rather used as a vehicle for test drives and to show off to interested buyers. The past two days, it's been driven by just about everyone at the dealer and quite a few customers, too. Opinions are pretty much the same in that it's a good looking car with a lot of cool features, but strangely silent to drive.
Pushing the 'Power' button on the dash gives you a 'spaceship firing up' type of sound as all the displays and lights turn on. You'll see the current battery charge and distance to empty, along with a plethora of other indicators, gauges, and information. Every button on the dash is a touch-sensitive pad and there are very few dials and real buttons to push.
There has never been a quieter moment then when the car is 'On'. Putting it in gear and beginning to roll, you immediately want to hit the brake with the sense of not being in control. An odd feeling for sure! With a push of the accelerator pedal, off you go onto an eerily silent road test. It's almost too much to take, too quiet. I'm sure this will lessen, especially for owners who drive this car every day. It's definitely something new, like learning to drive all over again. Strange? A bit. Fun? For sure!
All in all, the Volt is pretty decent looking and stylish. Nice wheels, nice fit and finish on body panels and interior components. It's definitely a head turner! Ours has a gigantic 'VOLT' vinyl sticker down each side, but I'm sure that's just because it's a demo, and added for flash. It is pretty loaded as well, and quite pricey for a car of it's size. Given what it is, I guess that's to be expected. I do hear there is a big government tax break if you buy one of these electric vehicles, which will help out because everyone who purchases a Volt will need to install a charging station in their homes. That's not cheap, but very necessary since this is NOT a car you just plug into your regular home electrical outlet.
I'm sure as the days go on, the hype will kind of wear off. This car has been all the talk in the GM and Chevrolet world so a bunch of initial excitement should go a long way. I'll be interested to see how many orders we get for a Chevy Volt after customers can actually see one in person and take a drive. Time will tell…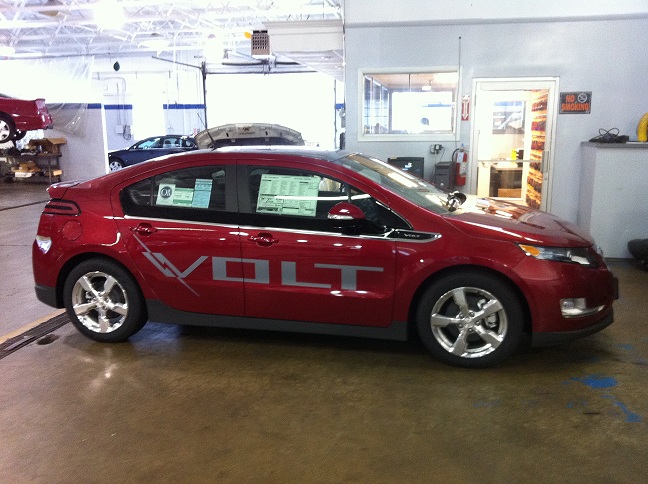 ---
Leave comments below or see these