Hello I have a 2006 Chevy Silverado 4X4 crew cab, having ABS problems, first once the ABS where coming on when I was braking. Just normal at a stop sign. It felt like air in the system, ABS light light would come on then later shut off, But brake felt spongy ?
ProTech:
The pedal will feel 'spongy' during an ABS activation, as it pulsates the brake fluid. You probably have a bad wheel speed sensor that is kicking the light on and causing unwanted activation.
So do I need a new Wheel hub assembly, to fix that problem?
The sensor can be changed separately, but sometimes with age they will break off inside the hub or be rusted to badly to remove, so then if that's the case you would have to replace the entire hub assembly. You would need to get the truck scanned to see which wheel has the problem and go from there.
Ok, thank you for your time.
No problem, glad to help! Have a great night.
Sorry I have another Question , I have a 2003 Saturn Vue FWD 2.2L, Having a humming noise when driving and when turn left the noise stop, is that a CV Shaft or Wheel bearing, No play in both wheels.
That is more than likely a bad wheel bearing.
What side would that be? Driver side?
It could be either side….you're best bet is to get the car in the air and put it in drive and get it up to speed and listen to each hub as it turns.
Did that and no sound at all, It need a load on the tire.
You'll have to guess then…usually you can tell which side is noisy when you're driving the car. While driving and you hear the noise, turn to the left and right. Listen for the noise to change. With the body roll during turning, if the noise gets louder on the side of the car that has the load on it, then that bearing is bad. So, driving at 35 MPH, turn left. Body roll causes a load on the right side. If noise gets louder then right side is bad. If noise goes away, then left side is bad because the load is off of that side.
Does the CV joint only make noise when turn? or when going faster? When there is a problem I mean.
The CV joint would make a clicking noise if it was bad, so it really sounds like a wheel bearing. You'll have to get it checked out.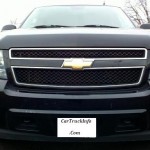 ---
I HAVE A 2005 CHEVY SILVARADO 4X4 I REPLACED THE LEFT SIDE WHEEL HUB ASSEMBLY A MONTH AGO AND YESTERDAY THE ABS LIGHT CAME ON AND THE BRAKES WERE PULSATING I HAD SOMEONE RUN A CODE CHECK AND HE SAID THE LEFT HUB ASSY WAS BAD AGAIN SO I HAD IT REPLACED AGAIN THEN TODAY THE LIGHT CAME ON AGAIN AND THE SAME PROBLEM WHEN I APPLY THE BRAKE
ProTech:
Are you replacing the hub assembly with a GM part or aftermarket part??
AFTERMARKET.
There's your answer….aftermarket = junk.Get a GM hub and you won't have any issues.
SHOULD I REPLACE BOTH SIDES THE TRUCK HAS 212,000 MILES ON THE ORIGANAL ONE ON THE RIGHT SIDE.
it couldn't hurt to replace both!
OK THANKS.
WHAT KIND OF PRICE ARE THE GM HUB ASSEMBLIES.
For the GM factory parts, you are looking at about $400 each.
---
I have a 2009 Silverado 2500 hd lt model it has 161,000 km on it and I was wondering why today when driving truck service Sound beeped than locks on door went up and down and on the dash it said service stabilitrak service traction control followed by a hard what felt like a down shift and no power ?
Well, the Stability system problem and the shifting are most likely related. Prossible sensor problem. You would need to get the computer scanned for codes. But the door locks don't seem to be related. You may have a wiring problem related to these conditions.
---
Leave comments below or see these