My 2002 Chevrolet Trailblazer stalls when sitting at a red light but not all the time,rpms go up then drop to 200 and car cuts off,already cleaned throttle body,changed fuel filter,changed map sensor,changed exhaust cam actuator solenoid and still stalls,any ideas would be greatly appreciated!
ProTech:
Is the check engine light on at all when it dies out?
No check engine lite.
Ok, it does sound like a throttle body problem. Are you sure you cleaned it out really good? The Trailblazer throttle bodies need to be near spotless for it to make a difference. All inside and behind the throttle blade, etc.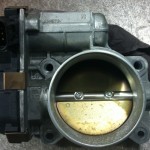 Yes i removed it and cleaned it spotless, you could eat off it.
Ok good, did you take it for a drive afterward so it could relearn the idle again?
What about pressure fuel regulator?
The fuel pressure regulator does not usually cause a stalling condition after the vehicle is running. If it's bad, it will usually cause a hard starting condition. But it's not totally improbable, just unlikely.
The vehicle starts fine and starts rite up after it stalls.
Yeah, then I would say it's definitely not a bad regulator. Have you done a fuel pressure check?
I have not done a fuel pressure check. Yes i did drive it for a while,it did not start acting up for 4 days after i did all the work.
I would at least check it to eliminate that as a problem for stalling out.
Thanks i will give that a try.
---
The motor stop running when i turn the a/c on.
How about a little more information like what kind of car you have?!?!
2005 Chevy Trailblazer
OK that's better and I can surely help you. The problem you are experiencing is due to a throttle body that has too much carbon build up inside it. When you turn on the air conditioning, the compressor is an extra load on the engine. The engine can't get enough air at idle to stay running with this extra load applied. What you need to do to resolve your problem is an easy fix. Just clean the throttle body out with a good cleaner such as carb cleaner or brake clean. Clean it thoroughly and then take it on a test drive. Once the idle is re-learned, your problem will be solved.
Also the radio control **** to turn channels or volume and on and off won't work the radio and cd will switch back and forth,, what could could cause this — 2005 trailblazer.
You may need a new radio. It would have to checked out to be sure. This is not any kind of theft or security problem.
How do i clean the throttle body.
You need to remove the air intake tubing and plastic housing that is above the valve cover, then you can access the throttle body to clean it.
Thank you.
I have one more question I have a 2000 GMC Sierra pickup with a 5.3 liter When I start my pickup it wants to hesitate when in gear or when i take off with it and then it goes away after i drive it for about 30 seconds, it seems like it is acts up more when the pickup it parked on a slope like in my driveway. When it is idling it runs fine.
A couple things to check….look to see if the fuel pressure regulator is leaking, that would cause a problem like you describe. Also, if the intake gasket has a vacuum leak, it cause the same issue, but go away after the truck has warmed up a few minutes. Either of those two things can cause the issue you're having with your Sierra.
---
Leave comments below or see these