I have a 1999 Oldsmobile Alero. The blower motor does not work. I have replaced the blower motor with a delphi motor and the blower motor resistor 3 times. The blower worked one time and has quit again.
ProTech:
Are you sure you don't have a wiring problem somewhere?
Where do i start to look for the problem.
You might want look for water intrusion in and around the blower motor area, as well as both instrument panel fuse boxes. There have been known issues with water intrusion in those areas that cause a lot of problems. I find it hard to believe you keep getting bad parts, although it's not completely ruled out. But I would check everything else before you replace the blower motor or resistor again.
I did notice water when i removed the blower motor to get to the blower motor resistor. How can I stop the water intrusion?
You would have to find the actual place it's coming in at. It could be the windshield area or cowl area. Once the leak is found, you can re-seal appropriately.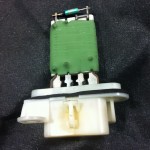 Thanks for the help, I will take a closer look at this tomorrow. Do you think the water has ruined the new resistor?
It could very well have. Good luck!
Thanks for the advice.
---
I have an 2003 Alero Oldsmobile and i went to start my car and the security light keeps flashing on dashboard and im not able to start car
You have a security problem and most likely will require the replacement of the ignition cylinder and the theft deterrent realearned.
Can i do those on my own?
You can, yes. You would have to have the new cylinder coded to your key, but you can install and do the relearn procedure yourself.
Ignition cylinder are those expensive?
It will run about $200 usually.
Great, thank you.
---
How do you change out a 1992 Olds Cutlass ac/heater blower motor? What tools are required?
It is a fairly simple procedure. The blower motor is located under the right side of the dash. You will need to remove the trim panel under that side of the dash, then you can access the blower motor area. There are very small bolts that hold it in place. Remove those and the electrical connector and change it out.
---
Leave comments below or see these